Bishop Melvin Brown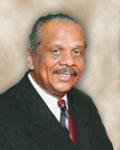 Bishop Melvin L. Brown is the Senior Pastor and Overseer of the Cathedral of Praise Worship and Family Center, Lorain, Ohio. He has served in this capacity since 1998. With over 26 years in the pastorate, and nearly four decades in the ministry, Bishop Brown has enjoyed a prolific career, and chooses not to cease his quests of continual progression spiritually, vocationally, and personally. He earned a Bachelor's Degree in Theology, and is currently in pursuit of a master's degree.
In 1974, he was baptized in Jesus Name and filled with the Holy Ghost, called to the ministry in 1976, and ordained in 1978 under the pastorate of the late District Elder Ralph M. Byrd in Canton, Ohio. He is a faithful and dedicated member of the Ohio District Council of Pentecostal Churches, Inc., Zanesville, Ohio, and Pentecostal Assemblies of the World, Inc., where he presently serves as Chairman, and is a member of the Board of Directors. He has also served as Vice-Chairman, Assistant Treasurer, and a member of the Credentials Committee.
He was elevated and consecrated to the Bishopric in August 2017, during the 102nd Summer Convention of the Pentecostal Assemblies of the World, Inc. in Nashville, Tennessee. He is the Diocesan of Santo Domingo District Council #63 in the Dominican Republic.

Bishop Brown has demonstrated his God-given gifts, talents, and winning souls for Christ from the inception of the ministry. A visionary, and a believer in the significance of stewardship, upon coming to the Cathedral of Praise, he added a multi-function facility and 10 classrooms on two floors to the existing edifice. Under his leadership, the church has purchased additional acreage with a maintenance garage and erected a covered picnic pavilion, and a barber/ beauty salon and a carwash, and The Jesse Williams Complex – which is a 16 unit residential facility.
He is known for his uncompromising integrity in teaching and preaching the Word of God. As an evangelist, he has travelled extensively throughout the United States, Dominican Republic, and Puerto Rico. A 21st century preacher, he puts special emphasis on a spirit of excellence in ministry. A favorite scripture is "For though I preach the gospel, I have nothing to glory of: for necessity is laid upon me; yea, woe is unto me, if I preach not the gospel" (I Corinthians 9:16). His messages are life changing, relatable to this present generation, and inspirational.
He has served on the Ohio State Board of Battered Wives, in addition to serving on the Board of Directors of Parish Nursing for Community Health Partners Hospital of Lorain, Ohio. He is licensed by the State of Ohio as a health and life insurance agent.
Bishop Melvin Brown is married to his life partner, Lady Rosalee Brown since December 7, 1968. Bishop and Lady Brown have two sons Melvin D and Timothy J. Brown, 8 grandchildren Kathy Sue Brown-Bracy, Emily, Alexis, Timara, Jacob, Timothy, Julia, Jordan and 2 great grandchildren, Myles and Mason Bracy.